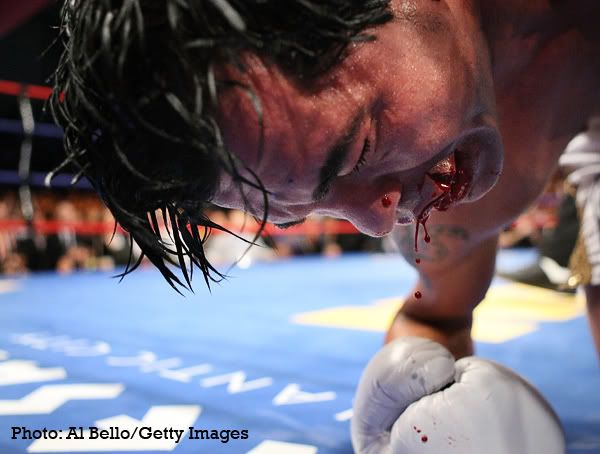 (spits out Sambuca shooter)
(stares at picture above podium)
Holy Ghost of Jersey Joe Wolcott!
Who ran over JC Van Damm? Oh, 'scuse me...that's our honored guest. Hello ladies and gentlemen and welcome to scenic Jersey City! Give it up for our house band:
Great White!
We've talked it over with our lawyers and we can assure everyone that
no pyrotechnics
will be used in tonight's show. Also, the fire exits are clearly marked and unlocked.
We're here to induct Arturo Gatti into the
Magnificent Bastards Hall of Fame.
The fighter they call
"Thunder"
was an easy choice for our fledgling Hall of Heroes, as Arturo participated in Ring Magazine's Fight of the Year
four times.
By "participate" I mean "got his faced turned into human tartar."
But we're not here to celebrate his defeats. We're here to relish in his victories. Who can forget that time when you devestated Joey Gamache's very soul? I'll tell ya who can forget...
Arturo Gatti vs. Joey Gamache - February 26th 2000
Uploaded by sostibo
JOEY FUCKIN' GAMACHE, that's who! He was in a coma for 24 hours after you whooped that ass! They call him Jell-O Joey now, 'cuz that's all the fucker can eat.
We all know about the weight that you gained before the fight. By the time the opening bell rang, you had him by almost 20 pounds! No one has seen that much weight gain since they started measuring James Toney's gigantic skull! They changed the weigh-in rules after that, the fascists. Not everyone can say they have a rule named after them, bro. Salud!

(shoots another Sambuca)

Hey, Lisa! Another one of these Italian Viagras, please! Seriously, who do I have to whack to get a drink around here?

(shuffles notes)

Ok, where was I? Oh, yeah. Boxing. They call it "The Manly Art of Self-Defense." Well, as everyone knows, Arturo redefined that meaning. After his thrilling trilogy with Mickey Ward, we started calling it "The Gatti Art of Kicking Ass." No one has seen an Irishman take blows to the head like that since Michael Collins! I kid Mickey Ward...but his head hurt so bad that his brother tried everything to make him feel better. Except a hit from his crack pipe. He never shares that shit.

(crowd cheers, screams in Italian)

Back to your seats, ya buncha spaghetti-slurping grease stains! We gotta hurry this thing up. Bon Jovi is playing a Democratic fundraiser next door and I know you morons don't wanna miss that shit.

Arturo "Thunder" Gatti, everyone! Come on up here, you senile Magnificent Bastard!

(playfully punches Gatti on arm)

(Gatti knocks his shit out)

ARTURO: It's great to be here at the new Jim Garcetti Chevrolet in Trenton where we're celebrating knock-out savings on new and pre-owned cars. After I ring this bell, the summer sales event will start!

(clinks champagne glass with spoon, raises fists)

(Great White plays Rock Me)