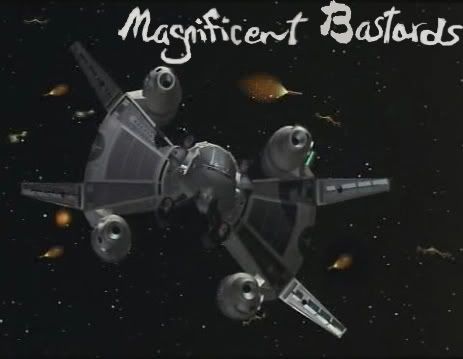 Sunday was a jumble of fucking fuck. Ronnie Brown RULED the Patriots singlehandedly and totally fucked their shit up. Fucked it waaaay up.
Travis Barker
fucked up. That's how fucked up their shit is. Still, I made a run at Jere's shitty band of derelicts: the Fackin' Dahkies. Almost winning is worse than getting your ass handed to you. Ask Hillary Clinton. Their
shitstained starters made me a grand total of -4 points.
Each week here at Magnificent Bastards, I present Death Blossom. I will pick one of my Hobo Sodomites and describe for you, in gory detail how I will kill that player. Winning and losing does not concern me. What concerns me is the unyielding suffering and eventual death of a player that has failed me, in which I have a personal interest in succeeding. I thank you in advance for your tax dollars that will pay for my court costs and lengthy stay in prison. This week's Death Blossom victim is the entire defensive squad for the New England Patriots.
First, I pick up the phone. I call up my boy Tawmee from Quinsee. I offer him $100 and a forged coupon to pokerstars.net to make contact with the squad at their practice facility.
[door flies open]
Tawmee:
WHAT THA FAAAAAACK! WHY ARE YOUUUUU FACKUS DOOOIN' NIS? YOU LET OWAH ENTIYAH CITY DOWN! YOU COULDN'T STOP THAT STOOPID DAHKIE RONNIE BROWN?
Tedy Brusci:
(massaging his tumor) Who the fuck is that asshole?
Tawmee:
WHO AM I? I'M DA GUY THAT'S GAWNUH FACK YOU UP!
[opens trenchcoat, brandishes shotgun]
Tawmee:
EAT LEAD YOU LAZY MUDDAH FACKAZ!
[click]
Richard Seymour: (scratching his balls) The hell did that cracka say? Fack?
Brandon Meriweahter:
THE SAFETY'S ON! WHOOP DAT TRICK!
[entire New England Patriots defensive squad crushes him]
[Bill Bellichick enters, floating two feet above the floor]
Bill Bellichick:
Who is this intruder?
Tedy Brusci:
He says his name is Tommy. He's from...where the fuck are you from, asshole?
Tawmee:
KINSEE, FUCKAH! QUINSEE!
Bill Bellichick:
YOU WILL PAY FOR YOUR ARROGANCE, FOOLISH BOY!
[raises thumb and forefinger, makes little crushing movement]
[dies]
As I listen via the wireless listening device that was cleverly attached to his Ford Taurus keychain, I gleefully press the button on the detonator. The entire New England region is decimated by a huge fireball of radioactive fallout and destruction. Let's hope that Bellichick doesn't rise from the ashes and become even more powerful than before.